In the realm of the animal kingdom, bats hold a unique and mystifying place. These enigmatic creatures have fascinated scientists, nature enthusiasts, and curious minds for centuries. Beyond their association with darkness and the supernatural, bats play an essential role in our ecosystem. One of the fundamental questions that often arises in discussions about bats is, "How many species of bats are there in the world?" In this comprehensive article, we delve into the fascinating world of bats, exploring their diversity, habitats, and the current state of our knowledge regarding their species.
Understanding the Enigma of Bats
Bats belong to the order Chiroptera, making them the only mammals capable of sustained flight. Their distinctive wing structure, consisting of elongated fingers and a thin membrane, gives them unparalleled maneuverability in the air. These adaptations have allowed bats to colonize a wide range of environments, from lush rainforests to arid deserts.
How Many Species of Bats Are There in the World?
Determining the exact number of bat species on Earth is a challenging task, primarily due to the constant discovery of new species and the ongoing revisions in taxonomy. However, as of the most recent estimates, there are approximately 1,400 recognized species of bats. These are distributed across the globe, except for a few isolated regions, such as the Arctic and Antarctic, where the extreme cold makes survival impossible.
Bats exhibit an incredible array of adaptations and characteristics, leading to their classification into two suborders: the Microchiroptera and the Megachiroptera.
Microchiroptera: Masters of Echolocation
The Microchiroptera, often referred to as microbats, are characterized by their small size and their ability to echolocate. Echolocation is a remarkable sensory mechanism that enables bats to navigate, hunt, and communicate using sound waves. This suborder comprises the majority of bat species, with diverse members like the little brown bat, the vampire bat, and the horseshoe bat.
Megachiroptera: The Fruit Bats
Megachiroptera, also known as megabats or fruit bats, differ significantly from their microbat counterparts. These bats are typically larger and lack the sophisticated echolocation capabilities seen in microbats. Instead, they rely on their keen sense of smell and vision to find food, which primarily consists of fruits, nectar, and pollen. The flying foxes and the Indian flying-fox are notable examples of megabats.
Bats are not confined to a single geographical region but are found on every continent except Antarctica. Their adaptability has allowed them to thrive in various ecosystems, from dense tropical rainforests to the frigid tundras of the Arctic.
North and South America
In the Americas, bat diversity is particularly high. Central and South America boast a rich tapestry of bat species, with the Amazon Rainforest being a hotspot for bat diversity. In North America, you can find bats like the big brown bat and the Mexican free-tailed bat.
Europe and Asia
Europe and Asia are also home to a wide range of bat species. Countries like France and the United Kingdom host bats such as the common pipistrelle and the greater horseshoe bat. Meanwhile, Asian countries like India and Thailand are inhabited by fruit bats like the Indian flying-fox.
Africa
Africa showcases its unique bat species, including the straw-colored fruit bat and the Egyptian fruit bat. Bats here play crucial roles in pollination and seed dispersal, contributing to the region's ecosystem.
Australia
Australia is renowned for its exceptional biodiversity, and bats are no exception. The continent is home to intriguing bat species like the little red flying-fox and the ghost bat.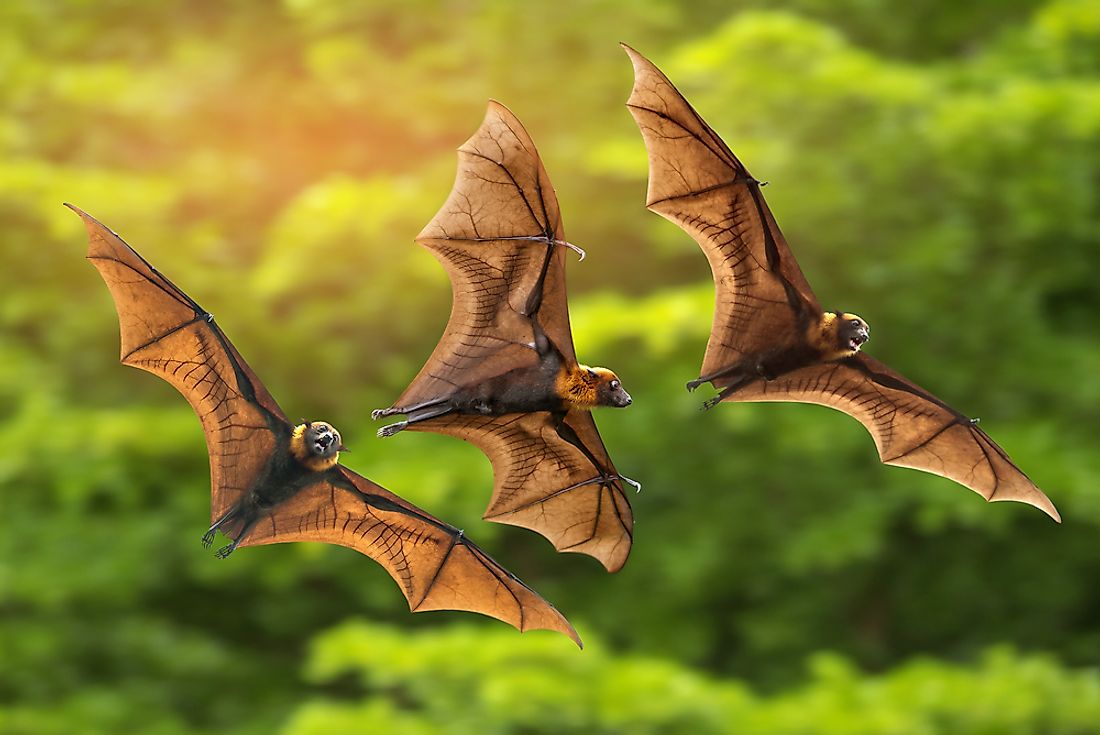 Bats play a pivotal role in maintaining ecological balance and are often referred to as "nature's pest control" due to their insatiable appetite for insects. Without bats, the insect population would soar, leading to severe consequences for agriculture and ecosystems alike.
Additionally, bats are essential pollinators and seed dispersers for many plants, including various fruits and flowers. This unique role contributes to the propagation of plant species and the production of fruits that are vital for both wildlife and humans.
While bats are vital to our ecosystem, they face numerous threats that jeopardize their populations. Habitat loss, climate change, disease (such as white-nose syndrome), and human disturbance are some of the primary challenges bats confront today. Conservation efforts are underway globally to protect these remarkable creatures and their habitats.
The world of bats is as diverse as it is mysterious. With approximately 1,400 recognized species distributed across the globe, bats are a testament to the wonders of evolution and adaptation. These creatures, often misunderstood and vilified, play vital roles in maintaining ecological balance and sustaining ecosystems.
As we strive to understand and protect the many species of bats that grace our planet, let us remember that their survival is intertwined with ours. Their fate is a reflection of our commitment to conservation and the preservation of biodiversity. So, the next time you ponder, "How many species of bats are there in the world?" know that the answer is not just a number; it's a testament to the remarkable diversity of life on Earth.