Lions are majestic creatures known for their dominance and power in the animal kingdom. As apex predators, they occupy the top of the food chain in their natural habitats. In this article, we will explore the dietary habits of lions, the types of animals they eat, and how their diet influences their behavior and social structure. So, Diet of Lions: what do lions eat in the wild?
List of Diet of Lions: What do lions eat in the wild?
Carnivorous Nature of Lions
Lions are carnivorous animals, which means the Diet of Lions primarily consists of meat. They have evolved as specialized predators with unique adaptations to help them capture and consume their prey efficiently.
Main Prey of Lions
The primary food source for lions is ungulates, such as zebras, wildebeests, and antelopes. These herbivores make up a significant portion of the lion's diet due to their abundance in grassland and savanna habitats, where lions are commonly found.
Hunting Strategies of Lions
Lions are skilled hunters and often hunt in coordinated groups called prides. This cooperative hunting behavior increases their chances of successfully capturing prey, especially when targeting larger or more formidable animals. Lions utilize their strength, speed, and powerful jaws to bring down their prey, relying on strategy, teamwork, and a blend of stealth and sheer force.
What do lions eat in the wild?
The main prey of lions consists of herbivorous animals found in their habitats, such as grasslands and savannas. These animals provide a substantial source of nutrition for the lions. Some of the main prey species include:
Gazelles: Gazelles are swift, nimble herbivores that inhabit the grasslands. They are one of the preferred prey species for lions due to their abundance and relative ease of hunting.

Wildebeests: These robust herbivores, also known as gnus, form an essential part of the Diet of Lions. Their large numbers and migratory behavior make them attractive targets for lions during their seasonal movements.

Antelopes: Various antelope species, such as impalas, kudus, and sable antelopes, serve as frequent prey for lions. These herbivores provide a valuable source of sustenance throughout the year.
Types of Animals Lions Eat
Apart from the main prey species, lions also consume other types of animals to supplement their Diet of Lions and meet their nutritional needs.
Herbivores
Lions often target herbivorous animals, including gazelles, impalas, and buffalos. These animals are relatively easier to catch compared to larger prey and provide a sufficient source of nutrition for the lions.
Medium-sized Mammals
In addition to herbivores, lions also feed on medium-sized mammals like warthogs, hares, and smaller carnivores such as foxes and jackals. These animals may not be as substantial as their main prey, but they offer an alternative food source when larger prey is scarce.
Large Mammals
When the opportunity arises, lions will also hunt and consume larger mammals such as giraffes, elephants, and Cape buffalos. Taking down these massive creatures requires the combined effort of the entire pride and is a testament to the strength and cooperative nature of lions.
Other Predators
Although it is relatively uncommon, lions have been observed preying on other predators such as hyenas, leopards, and cheetahs. These encounters usually arise when territorial disputes or competition for resources occur between the different carnivores.
Food Preferences and Availability
Factors Influencing Food Choices
The selection of prey by lions depends on various factors. The availability of suitable prey, seasonal variations, and the size and composition of the lion pride all play a role in determining their food preferences.
Scavenging Behavior
Lions are known to scavenge when given the opportunity. They are attracted to carcasses left behind by other predators or natural causes. Scavenging provides an important supplemental food source and allows lions to minimize energy expenditure when hunting is challenging.
Seasonal Variations in Prey Availability
In certain regions, the abundance of prey species fluctuates with the changing seasons. During the dry season, when resources become scarce, lions may need to adapt their hunting strategies or target alternative prey to survive.
Impact of Diet on Lion Behavior and Social Structure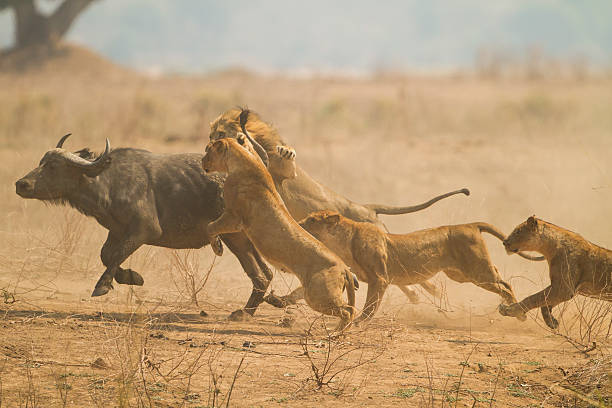 The diet of lions has a profound influence on their behavior and the dynamics of their social structure.
Group Hunting Dynamics
Cooperative hunting is a defining characteristic of lion behavior. Hunting in groups allows lions to take down larger prey and reduces the risks associated with hunting alone. The success of a hunt is crucial for the survival and cohesion of the pride.
Territory and Prey Density
The availability of prey in a given area determines the size of a lion pride's territory. Higher prey density can support larger prides, while areas with scarce resources may only sustain smaller prides or solitary lions.
Interactions with Other Carnivores
Lions often come into conflict with other carnivores, especially when competing for prey or defending their territories. Such interactions can impact the overall dynamics of the ecosystem and shape the distribution and behavior of different species.
Conservation Challenges and Human-Animal Conflict
Despite their powerful presence in the wild, lions face numerous conservation challenges, and human-animal conflict is a significant threat to their survival.
Habitat Loss and Fragmentation
The loss of natural habitats due to human activities, such as deforestation and urbanization, has greatly reduced the available range for lions. Habitat fragmentation isolates populations and restricts their ability to find adequate prey.
Human Livestock Interactions
In areas where humans and lions share the same landscape, conflicts arise when lions prey on livestock. This often leads to retaliatory killings by humans, further exacerbating the conservation challenges faced by these majestic animals.
Poaching and Illegal Wildlife Trade
The illegal wildlife trade, driven by the demand for lion parts and trophies, poses a significant threat to the survival of lions. Poaching for their skins, bones, and other body parts continues to fuel the decline in lion populations.
Lions are apex predators with a varied diet of Lions that primarily consists of herbivorous ungulates. They exhibit complex hunting strategies, cooperative behavior, and adapt their food preferences based on availability and seasonal variations. However, lions face numerous conservation challenges and human-animal conflicts that threaten their existence in the wild.